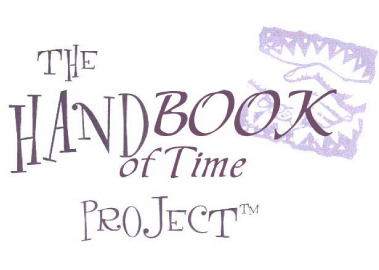 A Collaboration between Youth and Elders...
The HandBook of Time Project
Armistead Caregiver Services and Hands-On Productions, in conjunction with Life Span Resources, Inc., are pleased to announce our intergenerational project entitled: "The HandBook of Time". Elders in the early stages of Alzheimer's and "at risk" high school-aged youth worked together creatively to produce a unique kind of book: one made of plaster hand imprints that speak in personal symbols rather than words.
- The youth had the opportunity to demonstrate responsibility and awaken their ability nurture and care.

- The seniors engaged in collage making, one of the activities that is thought to stimulate the growth of new brain cells in the cerebral cortex. Dr. Gene Cohen of George Washington University Center of Aging, Health and Humanities, theorizes that arts participants have a heightened sense of control and social engagement, both of which may boost the immune system.

* Both groups benefited from the power of laughter and cooperation to build personal confidence and increase feelings of connection to their community.
Because of the looming care gap posing difficulties for aging Vermonters and those retiring to Vermont, this workshop was also designed to help introduce youth to job opportunities in the health care field. For example, "Amanda" never thought of herself as a caregiver. But after participating in the "HandBook of Time" Project, she has discovered that perhaps a career in health would be right for her after all.
Please look at this innovative intergenerational project, by visiting our video, put together by Cara Modugna, Enosburg High School Class of 2007. We encourage you to share it with your colleagues and friends. If you would like a DVD of your own, send an email to maggie@handsonproduct.com with your request.
The HandBook of Time project promotes a language of common respect. If you would like to host a HandBook project in your community, give us a call. We are, now, scheduling Training Workshops.